Sunday was my first jaunt with a Japanese tour group. The Shiso ladies had been talking about trying to go see a Takarazuka show for some time, and when we finally sat down to look at January dates, Little Brother JET showed up with a flyer from his neighbors saying he intended to go with his landlord on a tour bus and we were welcome to go along.
Although we, as Americans, are loath to just sign up for some itinerary when we are fully capable of planning our own trip, we did eventually fork over the money and agreed to their plan. It included a stop at the outlet shopping center near Kobe on the way home. We've been there before, and it's normally an all day event, going to the outlets. But on Sunday, we were only going to be there for like an hour and a half, according to the schedule. Whatever.
Takarazuka Revue is an all-female musical spectacle. There are five troupes (Moon, Snow, Flower, Star, and Cosmos), plus one group of elites called "Superior Members." Each troupe has a top star otokoyaku (male-role actor), and many of them have a top musumeyaku (female-role actor) as well. The show we saw was performed by the Snow Troupe, and their lead actor is Kei Otozuki. She's a cutie.

No photos allowed.
We picked January because the performance was Romeo and Juliet that month, and we figured that we could pretty much follow that show, despite the language barriers. Although the last time I ducked into a performance of Romeo and Juliet (in Vienna) and watched the ending, there appeared to be two Juliets, and foam rubber limbs (as in, human limbs.. torsos too!) rained heavily from the ceiling over the stage in the final minutes of the show. It was supremely baffling at the time. I mean, you thought you read a play in class..
Romeo and Juliet is, as you know, a tale of two idiots. It's Pyramus and Thisbe (and for a moment I was looking out for a lion, because I actually forgot how R&J ends.. I spent too much time reading Ovid). Still, it's special to me, though, because when I was in middle school, I got my first kiss (from Benvolio!) after seeing it performed by the Academy Street Theatre in town. (After the show I bought a postcard to send that beloved Benvolio!)
This postcard.
It's also packed with emotional potential, a picture perfect tragedy, and the female actors of Takarazuka were awesomely expressive. The boyish antics of Mercutio, Romeo, and Benvolio made the Montagues look like a fun and rowdy bunch, while moody Tybalt (the boy representative of the Capulets) was full of angst. I understood a lot more than I expected to of the actual words they used, and was happy in my decision to rent opera glasses (we were literally in the back row of the entire theatre). The singing was strong for the most part, though the Nanny (Sao Kurama) and Romeo were standouts.
Romeo may be a sensitive guy, but in every two-Juliets photo, Otozuki just looks like a pimp (in the positive sense of the word).

I absolutely loved the way Otozuki would smile in the love scenes with Juliet (at our show, it was Ami Yumeka, the one on the right).. really, there's a very sweet boyish charming first-love look that she was able to bring to it that was actually heartwarming. I mean, Juliet was kind of a simpering girl-child, but she's pretty much written that way, and it's hard to make her seem mature and decisive when she's not. All of the actors gave heart-wrenching reflections of the human condition. Juliet's father gets a solo right after slapping her, presumably considering what he just did and how it fits/doesn't fit with the kind of dad he wants to be. You can't help but clasp your hands together when you see Benvolio bent over the dead body of his last best friend. I see you. You can't! Or when Tybalt is propped against a wall, mourning/denouncing Juliet's engagement to Paris. Or when Romeo is losing his shit because he just killed Tybalt and doesn't know what will come next.
I mean yeah, everything was over the top. The costumes and the makeup and the dramatics were all fabulous, as would befit a musical rendition of Romeo and Juliet. The hair was even more extreme. They gave brooding Tybalt a long-established love for Juliet, and introduced two silent characters, Love and Death, who danced (or lurked) in some scenes, and opened the show by dancing together.
And then after it ended and everyone died and the actors came out and received their applause, a chorus line of angels started doing the can-can. You wish I were joking. They were joined by even-more-fabulously dressed cast members until Romeo (Otozuki) reappeared dressed entirely in sparkles. They sang and danced and I felt like I was in old-school Japanese Vegas. Then stairs appeared and more costumes came on, and then Otozuki came back wearing The Biggest Feather Tail I Have Ever Seen, and I couldn't stop giggling. It was spectacular! It was spectacle. It was awesome.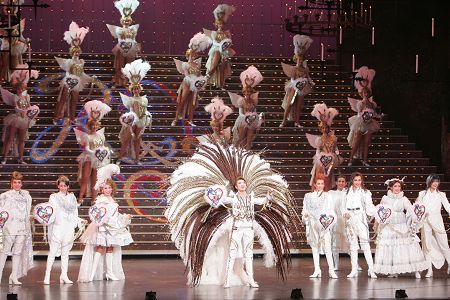 Seriously. This.

I loved it because I love emotional stories, and I love angst, and I love expressiveness, and I love pretty things and fabulousness too. I love live shows, so I automatically love things like this (I think this is part of why I love Cirque, too).. I just love spectacle. I bought some photos and got back on the bus.
I'm jazzed, though, because in the spring, a friend from high school will be moving to Takarazuka, so I'll have more excuse to go out there (it's only like an hour or so from here anyway).
Do I sound like a fangirl yet? You probably think I'm obsessed with Otozuki. Can I link these video clips? Are we still OK? I should mention that there are special places in my heart for lots of the actors and characters, it's just easier to find photos of Kei. On the tour bus, some winners of janken (JAN FREAKIN KEN.. that's rock paper scissors to you westerners who do not use such means to decide EVERYTHING) got signed photos of Misuzu Aki (Benvolio) and Sagiri Seina (Mercutio). Want. I guess I'll be satisfied with my program and my memories.